The Beginner's Guide to Ecommerce Website SEO
Posted by Gregory Edwards on July 6, 2018
Running an e-commerce website can be difficult: Adding new products on a weekly basis, ensuring that your stock levels are correct and trying to compete with other sites that are selling the exact same products as you can be a challenge.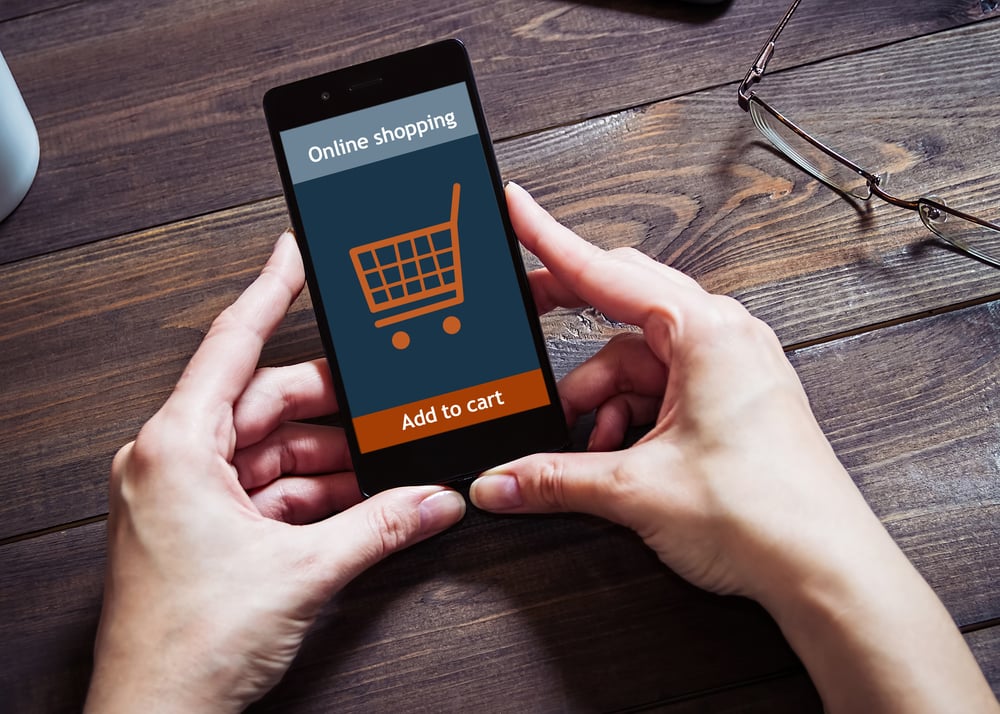 To ensure that this effort pays off, I've compiled a beginners guide to helping your ecommerce website increase it's organic visibility in Google, with the ultimate aim of having a positive impact on your conversions.
1. Information Architecture: Understanding your website's structure
The structure of your website is crucial – not only does it help users navigate to the content they want to find, but also assists search engine spiders with discovering, crawling and ultimately, indexing your content.
From an SEO perspective it's important that products are categorised in a logical way. Conducting comprehensive keyword research related to your industry and combining the search volume data and levels of competition you uncover with the types of products you offer can guide you when creating relevant categories and sub-categories.
Your category pages should then be optimised using the keyword data you have researched to help users find them more easily in *organic searches. This starts by ensuring the pages have relevant meta titles, descriptions, headings and on-page copy.
*With organic search, we're primarily concerned with Google organic in the UK so will refer to them specifically from here within this post.
An example of a website that has a clear navigational structure is Adidas. We can see that they have a tab named 'Brands' in their header menu (displayed in the image above). They have four different sub-brands: Adidas Original, Adidas Athletics, Stella McCartney and Adidas Skateboarding. By clicking on their name in the menu, you are taken to the area of the website dedicated to that specific sub-brand.
Here is the top of the page that is dedicated solely to 'Adidas Originals' and links to some of it's latest products, such as the P.O.D.System trainer. The page also contains some of the subsections of that menu category like the example below which links to the Men's, Women's and Kids pages.
By creating and indexing this Adidas Originals page, it allows them to appear in search results when users search for "Adidas Originals" and other related queries. Likewise, breaking down into Men's, Women's and Kids means that queries such as 'Adidas Originals for men' are met with relevant content, increasing the chance of a conversion being carried out.
Further tips for internal linking
It's important to link both down in the structure to further subcategories (as shown above), as well as back up to the categories and hubpages to show that they are authoritative hubs within the site. Whilst implementing a comprehensive header menu can help, you can also make use of features such as breadcrumbs, as well as internal links on relevant anchor text from within the content.
Breadcrumbs help Google understand the hierarchy of your website, relationship between pages and are excellent for internal linking and flowing authority around the website. Breadcrumbs are particularly ideal for e-commerce stores due to their sheer size, meaning a lot of the content can sit quite deep into the hierarchy. Without a good, logical navigation and strong internal linking, these deeper pages can be more difficult for both users and search engine bots to reach effectively.
2. Indexing the correct pages for faceted navigation
Faceted navigation refers to the filters that can be applied in order to see specific products, and it's particularly common to see ecommerce websites using this. Once these filters are selected it will usually result in new URLs being created to reflect the combination applied.
However, if you don't carefully consider how this will work it can cause big issues for your organic visibility. As these filtered 'pages' can still be crawled and indexed by Google, you need to retain some control over which ones you want the search engine to see. By their nature, many pages created using filters might appear as duplicated with other pages on the website, or may be considered 'thin', for example if they don't display many products to users.
What is the solution to multiple filters?
First, it's important to understand that there's no "standard solution" to tackling this problem since every website is different and poses its own challenges.
One procedure you could follow may involve prioritising some filters over others and controlling which ones Google is able to crawl and index. Using keyword research (as mentioned in the previous point) can help you identify popular combinations of the various facets alongside your product categories, validating whether they'll be useful for Google-inclusion based on the available opportunity to capture decent quantities of search traffic.
You also have to decide whether the page created from applying a particular combination of filters will add value to the user, and be unique against other content offered on the website. Below is an example of an ecommerce website (John Lewis) using faceted navigation to help users filter down to see more relevant products to them.
Let's take an example of 'Men's shirts'. Perhaps the products contained within this category can be filtered by size, style, colour and material. Say only one filter under 'styles' has been selected (e.g. 'Casual').
Positives could include:
The resulting page will still provide plenty of inspiration to those who may not know what they're looking for yet

Lots of product results equals a content-rich page (little risk of being considered 'thin')

Good search volume for a keyword such as 'casual shirts for men' (6,600 monthly searches on average, according to SEMRush data)
On the flip side, this page may not necessarily lead to a conversion – further filters may need to be applied before the user finds what they want. However, whilst a page using a number of these proposed filters (e.g. to create a page for "XXL casual green cotton mens shirt") may generate a high conversion rate, it's unlikely to attract visitors in large volumes through organic search. It also potentially risks creating a page with little inventory, and therefore deemed "thin" in the eyes of Google.
A happy medium therefore needs to be found with the pages which you want to be accessible to bots as well as users. Doing things that increase the power of your brand (covered in more detail in point 5) can get users onto your website initially, whilst providing a good, clear experience to allow them do the hard work of filtering to the products for themselves may provide the most useful answer to this problem. This then allows you to concentrate on only offering Google filtered pages with lots of inventory and higher search volumes.
One of the easiest ways to block filtered pages that are of little value (for users and with low search volumes) is to add a NoIndex directive to them. Every website and industry will be different, but often a good rule of thumb is to NoIndex at least anything with more than two filters applied. This means you are still capturing mid-long tail traffic in the SERPs (search engine results pages) whilst also not letting your pages become too 'thin'. It also minimises the risk of multiple duplicate pages of content being created.
Other ways to tackle this include:
Using a

canonical tag

on filtered pages, pointing back to the main product category

Utilise the

robots.txt file

to ask crawlers to not visit certain filters being created

Block those filters using Google Search Console's Parameter Exclusion tool
Adding a hash parameter in the URLs where the filter applies. This essentially canonicalises the URL because Google completely ignores everything in the URL after a hash
How to display your product listings
On the product listing pages themselves we'd suggest using pagination with the recommended rel="next"/"prev" markup, as opposed to loading products on an infinite scroll. This tells Googlebot that each page is linked as part of a series and helps to consolidate any authority/link signals between all of the pages.
Finally, make sure you don't point your canonical tags back to page one of the series as this provides a conflict against the rel="next"/"prev" pagination markup. Ensure if using canonicals here that they are self-referencing only.  
3. Create engaging meta titles & descriptions
Both the meta title and meta descriptions are vital in helping users understand what your webpage is about from making a decision about which search result to click on. Think of them as parts of your shop window; if these two elements are more enticing than your competitors also ranking in the SERPs, it can increase the likelihood of the user clicking through to your website.
So how can an e-commerce website create engaging meta titles and descriptions that attract potential customers?
Let's take a look at an example Google's SERPs – when searching for "Nike Vapormax" we are able to see both good and bad meta titles and descriptions being used by ranking websites.
Whilst Flight Club's title tag does show that the page offers the Nike Vapormax shoes, it's displayed in a breadcrumb navigation and could be more descriptive. Furthermore, the page's meta description clearly hasn't been created as Google appear to be pulling out information from the page, such as prices and some of the model variations that they stock.
This doesn't really help to pull in customer through enticing language, and doesn't particularly help those who aren't already aware of the different models of the Vapormax (i.e. they may be looking to find out more information before making a purchase).
Above are both of the ranking Nike.com results; the top one is an actual product page, the second is an informational page explaining the innovation of the Nike Vapormax.
Even though the product page is where a user can make a purchase, it uses a very similar meta description to the innovation (informational) page, the purpose of which is to allow users to learn about the unique features of the shoe.
The product page's title tag is a significant improvement over Flight Club's however. The title suggests that it's selling the same running shoe, but the combination of using "Flyknit" with the structure they've followed provides a more insightful result of what to expect on the page, which could lead to more valuable clicks.
Pairing this with Nike's use of aggregate rating schema (used to average all user reviews received for the product) to display stars within their search result catches the user's eye, whilst promoting the quality of the shoe to increase interest further.
Other considerations of meta titles and descriptions
It's important to say that whilst title tags can impact your ranking on a search results page, your meta description does not. Descriptions are purely there used to boost the ranking webpage's click through rate (CTR) from the SERPs.
Another consideration is that Google can decide to chop and change your meta title and description, depending on the user's query – i.e. they won't necessarily use what's been manually prescribed in the <head> section of your webpage's HTML.
To help counter this you should ensure that the body content at the top of the page is is closely related to what has been set within the title and description. This will help bots understand what your page is about, but is also good for users, to aid CTR (click through rate) and lead to reduced bounce rates.
4. Create unique product descriptions
Remaining on the topic of standing out from the competition, the product description is another area that can help you differentiate your e-commerce store from a competitor's.
Most e-commerce stores will utilise descriptions directly from the manufacturer's site (this will often be requirement of that product being stocked on the website). But what does Google think of this, given it has an issue with duplicate content? Google is constantly looking for unique content for users, so if your URL has the same/similar description in the body as everyone else who competes to sell the same product, you could run the risk of offering very little in additional value in the eyes of Google.
Let's take a look at some examples…
When looking at Off White's description for their industrial belt, we can see it's very short and offers little value in its current form. Using this minimal, manufacturer-provided description means that no additional benefit is offered to a user from this page of content.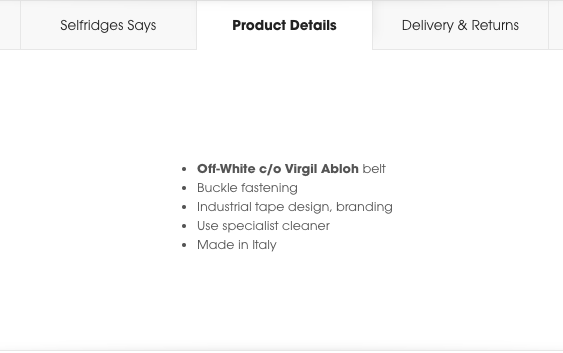 An example of an ecommerce website doing a better job here is Selfridges, which offers users something a bit different with their "Selfridges Says" section on the product page. In this case, the content here provides an insight into the design behind the belt, written from the point of view of Selfridges itself.
They still have the templated, bullet point description, but have also added extra bullet points which ensures the content about the product is unique in comparison to its competitors.
Ensuring your e-commerce site has unique, value-adding content from other websites selling the same products provides Google with a reason to rank you above other sites who may have like-for-like content.
5. Importance of brand
Back in May, Blue Array SEO Manager Dylan Yates published a blog post discussing whether 'brand' is effective in SEO. He concluded that not only is creating a trustworthy brand important for driving sales, but it is also important to help drive traffic to your website.
Creating a brand that is instantly recognised as reliable will draw a user's attention to the that result in the SERPs over others which they may not recognise. Subsequently, if the website ranks for a vast amount of queries then it's more likely to drive visitors to the site purely because they are clicking because they recognise the brand, and have pre-instilled trust in it.
In the early days, one way to create a trustworthy brand is by creating content that your users are going to find highly valuable. Provide enough of this content and you'll find that your website becomes a resource that persuades users to return to you time and time again.
From an SEO perspective, adding such content (e.g. in the form of a blog/resource area) opens a doorway of benefits. Your website will utilise an array of potential new keywords that it can rank for, with many of these designed to capture more customers towards the top of the conversion funnel to help raise awareness of your brand.
High-quality content with a more informative angle (as opposed to directly conversion focused) may also be able to generate backlinks from authoritative websites, as well as receive exposure/shares on social media.

However, starting and maintaining a blog isn't as easy as it sounds. Not only will you need copywriting resource to create posts on a regular basis, but you would also need to ensure posts are relevant and up to date, so keep this in mind you'll need to commit to this focused resource.
What else can you do to build your brand?
Creating a blog is not the only way you can help to build a brand; you should also:
Provide a fantastic user experience/ensure your website design is clean, clear and easy to navigate

Ensure it's technically sound, including being able to load content quickly

Generate positive PR/be featured in relevant news articles

Aim to secure a

Google Knowledge Panel

for your brand or a Google My Brand or Business page. The latter if it needs to be tied to a physical location.
Create content with the aim of securing featured snippets which can sit above traditional organic results for informational search queries.
6. Implement HTTPS
A few years ago Google confirmed that it favours HTTPS pages over HTTP pages when it comes to ranking two sites which have otherwise equivalent signals of quality.
This means that if you haven't made the change over to HTTPS yet then you should aim to do so – as soon as possible!
Being on HTTPS is particularly important for ecommerce websites. Google Chrome and other browsers mark HTTPS sites as "secure" (in the browser bar) with a green authentication padlock – on the flip side Chrome are shortly planning to mark websites served only over HTTP websites as 'Not Secure'.
When there's the chance of a user making a purchase on your website, you don't want to make them concerned that their transaction is at risk by being on a unsecure connection. There's clearly a potentially major negative impact on conversions if that is the case.
However, bear in mind that when moving from HTTP to HTTPS is technically a website migration, and therefore you can run into issues if this is poorly implemented. As the URLs are changing, you'll be required to redirect all of the old HTTP URLs to their new HTTPS equivalents.
Once the migration has been completed you may lose some visibility (after a temporary visibility boost while 2 URLs are indexed); this can take around 2 – 3 months (depending on the size of your website) while Google processes all of the redirects you have set up and reindexed the site in its new location. The smoother your migration and the better accuracy you have with your redirect mapping the quicker this will be.
To summarise
To recap, if you want to build a great ecommerce website which has solid SEO foundations and gives you an advantage over your competitor's, consider the following:
Construct a site structure through easy to navigate menus with logical categories

Identify which website facets and combination of filters will contain enough inventory, offer value to users and attract good search volumes. Block the rest to prevent duplicate/thin content issues

Create engaging meta titles and descriptions to entice your potential customers to your website from the SERPs. Stand out in the 'Blue Array' of links 😉

Craft your own, unique product descriptions to ensure your site has unique content and additional value vs. the competition

Build a trustworthy brand that users recognise and feel safer visiting over other 'unknowns'

Move your website to HTTPS: this is essential if you're selling products. It gives users more confidence to buy from your site by protecting their personal and credit card information.