Blue Array is the UK's best SEO agency
We are incredibly proud to have won Best Large SEO Agency at the UK Search Awards 2022. This is a fantastic achievement and is a testament to all of the incredible work each and every member of the Blue Array team puts in on a day-to-day basis.
"The UK Search Awards are arguably the most prestigious in the UK and winning the pinnacle of their judging is incredible. I'm so glad the amazing team here have received this accolade to validate their position as market leaders and continue to drive the industry forward"

Simon Schnieders
Founder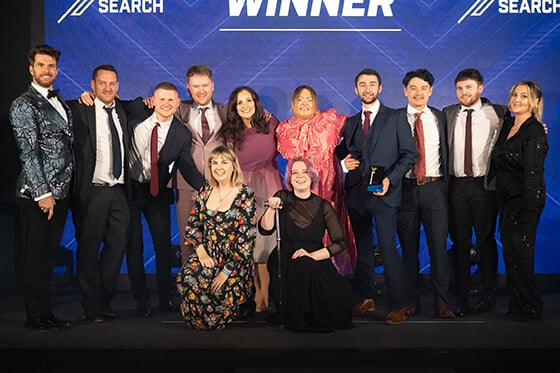 "Winning this award is truly amazing and I am thrilled for the team. I'm so proud of what we're achieving and am certain we will continue to raise the bar for our clients and our industry."

Mike Stepney
Head of SEO
The UK Search Awards has been celebrating the expertise, talent and achievements of the search industry for over a decade and is regarded as the premiere celebration of SEO, PPC and content marketing in the UK.
The awards attract hundreds of entries from the leading search and digital agencies from across the UK and to those based elsewhere around the globe who are delivering work for the UK market.

"They've really gotten to know our business the past 18 months and have been hugely successful in their SEO efforts. Blue Array have gone above and beyond the call of duty."

"Blue Array is a rare gem in an industry that is often clouded by mis-information and uncertainty. Put simply I really could not recommend them highly enough! Thank you!"

"We've achieved the best rankings ever for our Life and Travel Insurance products. The CMO and I have been deeply impressed with Blue Array, you're a credible agency with integrity who deliver results"