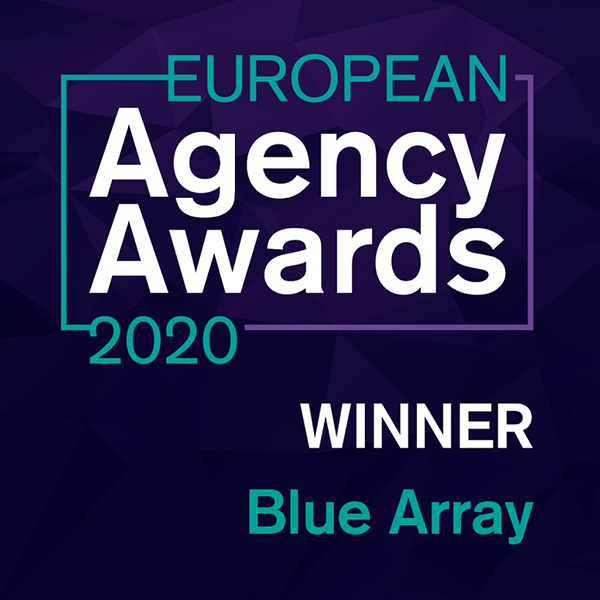 We are proud to have won the "Campaign Effectiveness Award" at the European Agency Awards 2020 for our work with online floristry website Floom.

Tom Pool (Technical SEO Director) at Blue Array won the prestigious 'UK Search Awards 2019' for 'Young Search Professional Of The Year'
Blue Array were nominated in 2019 for their work with the Post Office in the 'Most Effective Campaign' category at The Drum Agency Business Awards.
In July 2019 Blue Array has been chosen as a finalist for the High Growth Tech Business category at the Thames Valley Tech Awards 2019.
The two award nominations were for "Best Local Campaign" via our SEO Manager, Dylan Yates and our Technical SEO Manager, Tom Pool for "Young Search Professional of the Year".
Blue Array nominated for a Pride of Reading Award for its commitment to nurturing and growing young talent
In September 2017 Blue Array were nominated for the 'Business in Action category' at the Pride of Reading Awards for its commitment to apprentices and 'purpose beyond profitability'. Blue Array were subsequently interviewed by local station 'That's Thames Valley'.
In October 2017 Blue Array were nominated alongside their committed client 'Simply Business', in the 'Best Use of Search – Finance' category at the UK Search Awards.
In August 2015 the impending mobile takeover took place. Mobile overtook desktop as the primary device used to browse the internet for the first time according to Ofcom…
In April 2017, reports had been made that Google were potentially testing a new job search feature. The big news was that this job-search feature would be Google's first foray…
From January 2017, Google is set to carry out its newest update to its mobile search algorithm. The Google Interstitials mobile penalty is the second part to Google's mobile- friendly'…
Since June 2016, the UK has been in a state of uncertainty. Leading up to the EU referendum, commentators debated on the impact of the UK leaving Europe from the…
When publishing on the web, it's not uncommon for marketers to serve different content between their mobile and desktop pages. However, the issue here is that Google ranks websites using…
In this episode of Marketing Nerds, SEJ Executive Editor Kelsey Jones sat down with Simon Schnieders from Blue Array to talk about what the upcoming Mobile Interstitial Penalty from Google…
At the beginning of 2016 Google announced that they would begin warning Chrome users that they were accessing non-secure websites. Now pages without HTTPS that collect sensitive information such as…
In the nitro-fueled, hyper-paced modern world, digital marketers have to be able to upshift quickly, change lanes without hesitation, and recognize the traffic patterns ahead to avoid delays and setbacks…
Government statistics show that there has never been a better time to recruit an apprentice in the UK. 75% of employers report that taking on an apprentice has helped their…
For a long time apprenticeships have been derided by some as an option for less bright kids who can't make it into university and want to train as plumbers or…
At the beginning of March, it was reported that Google had released a major new, unconfirmed ranking update. An update that slipped under the radar and supposedly caused a large…
When one of the world's leading companies achieves 4 million hits on YouTube, you can bet that everyone is lovin' it. Especially the ad agency that came up with the…
A GROWING tech firm is moving into a new home after outgrowing its current office share. Blue Array Ltd specialises in large-scale search engine optimisation is moving from Green Park…