Our Digital PR speaks the language of your brand. Whether you are looking to increase your backlink profile, show authority in a specific space or launch into a new market.
Our team of talented Digital PR professionals align with your brand's key goals and mission to create PR stories that sets your brand apart from its competition.
We work closely with our clients to drive a strategy that works for them. Whether they are a tech scale-up, a fin-tech disruptor or a high street fashion brand, our approach is completely bespoke to their brand's mission and positioning.
What makes us different?
We are PRs. We understand the importance of brand, narrative and relevancy. We prioritise quality messaging and hone in on our relationships with online press to ensure your brand is seen in the best light, in the best titles. We don't rely on old school metrics and we don't create link building campaigns that don't feel on-brand. We create quality content, research pieces, press opportunities and product-focused PR campaigns that get the online press talking.
We are creative strategists. The newscycle is our home and we know how to navigate online press to ensure our client's backlink profile is relevant and diverse.
Who we know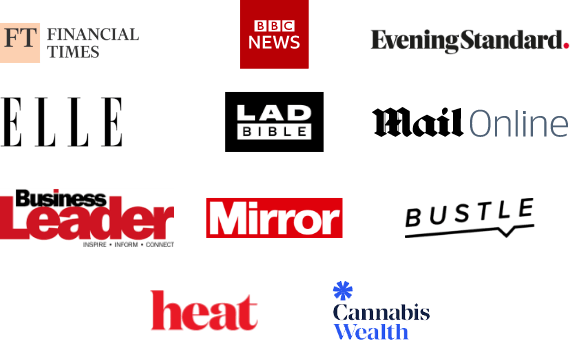 Who we work with

Content Campaign
Building meaning stories through content, data and design that gain traction for relevant sites.
Press Office
Combining reactive PR with brand profiling to ensure brands are respected amongst its industry peers and is seen by the right titles and investors.
Product
Promoting the brand's strongest assets, its product.
Blue Array's Digital PR team utilise their network of consumer press to ensure the product gets cut through.
Launch
From new products, offerings and services to cutting into a completely new market, Blue Array will build out a strategy that demonstrates authority and hype.
Digital PR Audit
A Digital PR audit analyses the brand's backlink profile, the gap between them and their competitors and key opportunities to take advantage of.
Reputation Management (SERM)
Working with brands to improve and mitigate any negative press and to promote a company's best qualities through SERM practices.
DPR Training
Empowering and upskilling in-house teams on how to execute show-stopping Digital PR and link acquisition campaigns.
Digital PR success stories
Penfold
471 pieces of coverage, 124 links with an average DA of 52 in 12 months
Penfold aims to disrupt the pensions industry by creating a jargon-free customer experience that makes saving and investing pensions straightforward and enjoyable.
Our goal was to strengthen B2B & D2C business models whilst educating and encouraging people to save more for their future. We created a campaign that highlighted the impact that rising costs can have on everyday items and our ability to save money. We identified the top 18 things Brits love to spend money on and how much they've increased in cost over the past five years. The campaign resulted in 140 pieces of coverage and 31 digital PR links in just two weeks from publications including Daily Mail, The Express, Mirror, LadBible, and more. Alongside this, we gained TV coverage from BBC Morning News and radio coverage from LBC Radio.
Cannaray CBD
219 pieces of coverage and 121 Digital PR links in 12 months with an Average DA of 69
In the super competitive world of CBD, Cannaray wanted to position itself as the main CBD wellness brand and to essentially make CBD 'mainstream'.
Our goal was to increase the share of voice for the brand within key titles, raise brand awareness, and strengthen relationships with journalists in the B2C and B2B categories. We worked with their marketing and comms team to ensure that every new story was sold along with our own content such as stress awareness, endometriosis and seasonal trend-focused content. Using a collection of new stories, we implemented a multi-layered approach so the brand could be outreached to multiple genres of sites with different news stories through reactive and proactive activity in quick succession. This ensured the brand was seen on a wide range of websites that demonstrated the brand's authority within the CBD space in business, cannabis, health, consumer, national and women's and sports interest sites.
Digital PR customer testimonials
Industry recognised PR

Best Use of PR in a Search Campaign

Best Use of PR in a Search Campaign

Digital PR Campaign of the Year – Finance
Get in touch today
If you're interested in Blue Array's Digital PR services, please fill out the form below.