RemoteSEO Meetup Roundup – August 2020
Posted by Luci Wood on August 19, 2020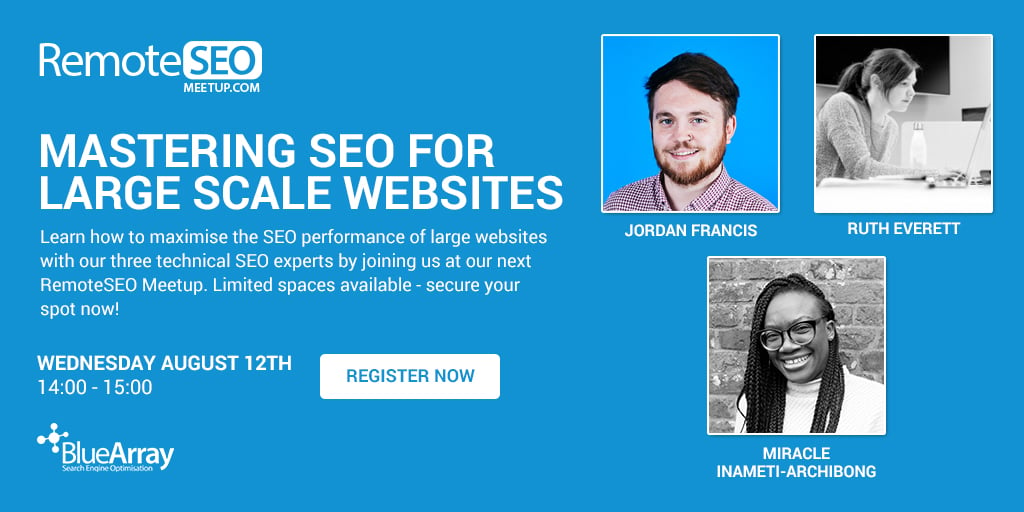 Do you remember when I said our June RemoteSEO Meetup was on the hottest day of the year? Well, it turned out to be nothing compared to the near 40 degree heat that our speakers faced at the fourth RemoteSEO Meetup! How fitting that it was on an equally hot topic: Mastering SEO for Large Scale Websites.
In the presentations, we heard our three expert speakers, Jordan Francis, Miracle Inameti-Archibong and Ruth Everett, share their advice on handling the challenges and opportunities associated with increasing the visibility of huge domains in search engines.
Jordan Francis – Blue Array
Jordan is an SEO Manager at Blue Array, having progressed from SEO Executive over the past two and a half years. He is a strong advocate for both quantity and quality, stemming from his experience on working on some of Blue Array's largest accounts across a variety of industries.
In his talk, Jordan focused on how to best influence which pages are crawled by Google by improving the overall quality of your site, no matter how large it is.
Key takeaways from Jordan's talk included:
Manage quality indexation. The overall goal here is to stop low-quality, redundant content from being indexed by search engines to better pave the way for all high-quality, valuable content to be indexed correctly. To do this, gather as much performance data as possible to identify low quality or badly performing content that should either be improved or removed.
Leverage the Index Coverage Report. Use the Excluded report in Google Search Console to identify the pages that Google has decided not to index for whatever reason. This will help highlight linking or prioritisation issues, thin or redundant content as well as duplicate content that should be reviewed.
Sitemaps are your best friends. To overcome the challenge of Google only sharing the top 1,000 pieces of data, use dedicated XML sitemaps to filter specific areas of your site within the Index Coverage Report. For example, bespoke sitemaps could be created for an eCommerce site by grouping URLs by product type to see how they are being indexed. With these filters in place, you can then assess the efficiency of a particular section of your site and create an improvement strategy off the back of it.
Miracle Inameti-Archibong – Erudite
Having worked in SEO for over a decade, Miracle brings plenty of knowledge and experience to her role as Head of SEO for Erudite. Miracle enjoys sharing her expertise in Technical SEO as well as data-driven strategies to deliver SEO growth for her client base of local, national and international brands.
In her talk, Miracle shared how best to maintain a large eCommerce site from both a technical and content perspective.
The key takeaways from Miracle's talk included:
Do not neglect your product pages. Developing on-site content is a quick win that moves the needle most on organic search performance. Push for investment in your content team and encourage them to optimise product pages with unique content as well as user-generated reviews, comments and questions. When faced with the challenge of creating thousands of unique product titles, look for patterns and concatenate names and product numbers in order to optimise at pace.
Establish a maintenance rulebook for technical changes. When something changes on your site, make sure everyone knows the activities that need to happen to maintain the site's overall health. For example, establish processes on how to handle out of stock products, set up custom alerts on anything that impacts a user's experience, such as broken links, and create a maintenance checklist for sitewide updates.
Establish a maintenance rulebook for speed. For large sites, page speed is critical. Set up alerts in Google Analytics to tell you when the loading speed for a page goes above a certain threshold, and make sure you act on it. Third party scripts heavily influence page speed, so monitor them like a hawk. Delay their loading, load only the most up to date version or simply remove them if you don't need them.
Ruth Everett – Deepcrawl
Ruth is a Technical SEO Analyst at Deepcrawl and was a Young Search Professional of the Year finalist at the 2019 UK Search Awards. In her role, Ruth works with clients to analyse and monitor sites from a technical and usability point of view.
Ruth's talk focused on the technical aspects of large sites and how to make them as efficient for search engines and users as possible.
The key points of Ruth's talk included:
Use tactical crawling to get initial insights into your site's technical health. There is no need to crawl every single page each time you crawl. You just need to gather enough data to identify the issues that matter. Different crawling methods that will help you do this include only crawling up to a certain crawl level and segmenting by page categories, for example just looking at product pages, navigational pages or transactional pages in your crawl.
Ensure your site is efficient to crawl for search engines. You can (and should) influence the pages search engines crawl and index. A few different ways to do this include using robots.txt directives, setting noindex, nofollow tags, implementing canonical tags and by including only indexable, unique pages within sitemaps. But most of all, make sure your site is as useful for users as possible. If a page is valuable to users, make sure it is indexable and as easy to find for them as it is for search engine crawlers.
Increase visibility of your important pages with internal linking. A user (and crawler) should be able to understand your site structure and reach the page they are looking for in as few clicks as possible. A strong internal linking strategy through breadcrumbs, in-line links and an appropriate menu navigation is key to this.
I hope you'll agree this was a really insightful session! Thank you to our speakers and everyone who braved the heat to join us. For your next instalment of SEO tips and tricks, keep an eye out for the September event – coming your way on Wednesday September 9th – by following the event on Twitter at https://twitter.com/RemoteSEOMeetup.