RemoteSEO Meetup Roundup – June 2020
Posted by Luci Wood on June 25, 2020
Blue Array NewsConferencesMeetups
On what had to be the hottest day of the year so far, SEOs and Digital PR enthusiasts sheltered inside for the second RemoteSEO Meetup. The aim? To uncover the mystery of what journalists actually want from public relations.
Despite the heat, our three expert speakers: Amie Sparrow, Abi Bennetts and Hannah Butcher kept their cool, giving us plenty of insights into maximising top-tier journalist coverage from Digital PR campaigns.
Amie Sparrow – Blue Array
Amie has worked in PR and marketing for the past decade, and now manages Digital PR at Blue Array. Before her PR career, she spent seven years as a crime reporter in Chicago, which gave her valuable insight into what journalists are looking for from public relations.
In her talk, Amie discussed the different types of multimedia content that journalists want based on her own experience, as well as from feedback from some "mystery" journalist contacts.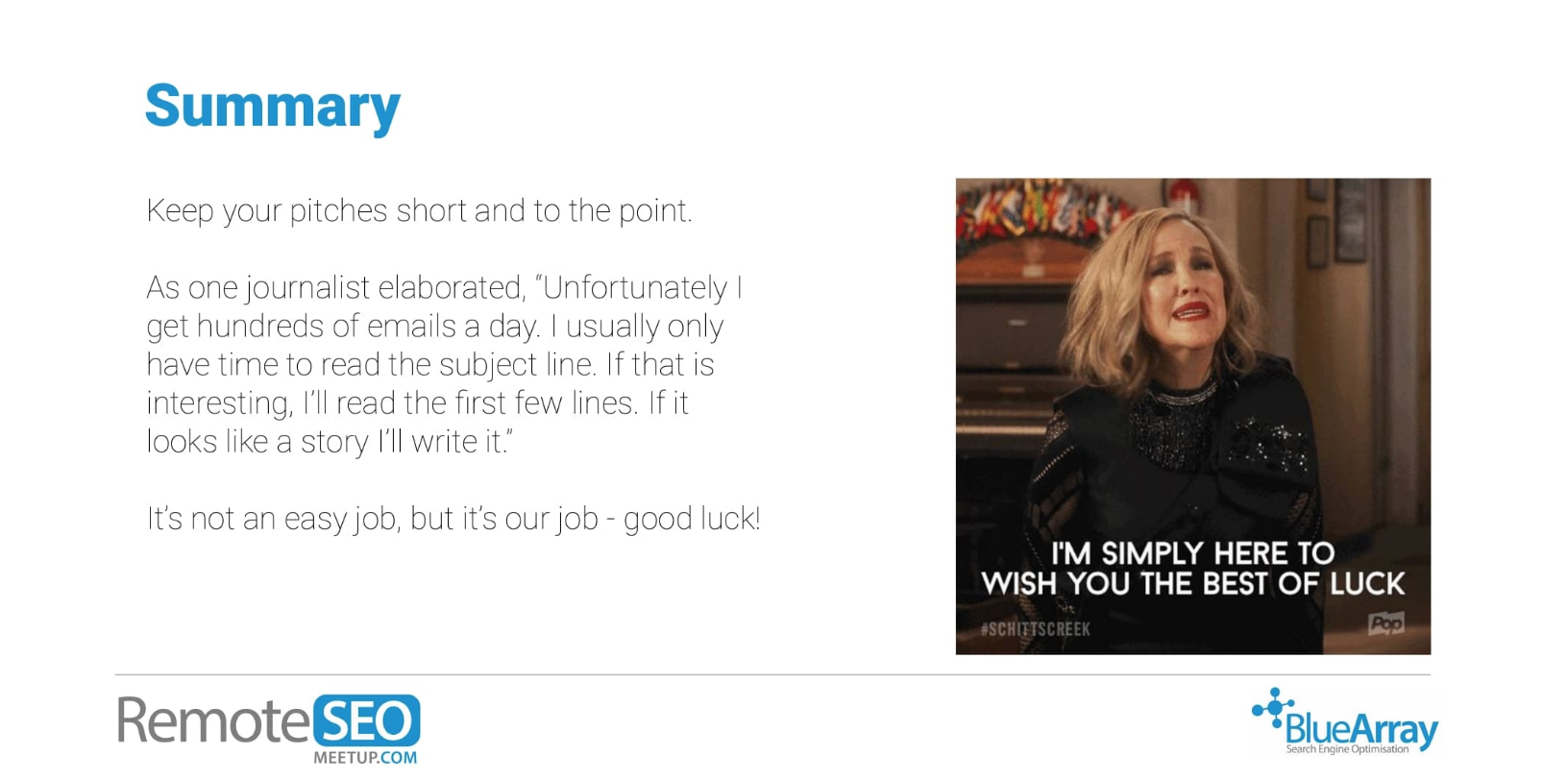 Key takeaways from Amie's talk included:
Journalists want assets that are relevant to their story. Provide high-quality maps, photos and charts that are tailored to the publication and the story. The intention of these assets should be to enhance the story, not detract from it.
Journalists wish we knew to send everything upfront. In the spirit of helping journalists meet deadlines, send everything they might need all at once, rather than teasing a photo or quote. At the same time; less is more. Keep emails short and to the point without clogging up their inboxes.
Journalists sometimes like us. The best PRs help source additional quotes and information to help make a journalist's work more unique, while the best PR pitches are in response to things they've asked for as opposed to cold outreach.
Abi Bennetts – Digitaloft
With two years' digital PR experience under her belt, Abi works as a Digital PR Strategist at Digitaloft. She thrives on building media relationships and links for her clients. Her self-confessed "people-pleasing" nature has helped her achieve coverage in a variety of top-tier publications.
In her talk, Abi shared three top tips for building professional relationships with journalists that build coverage.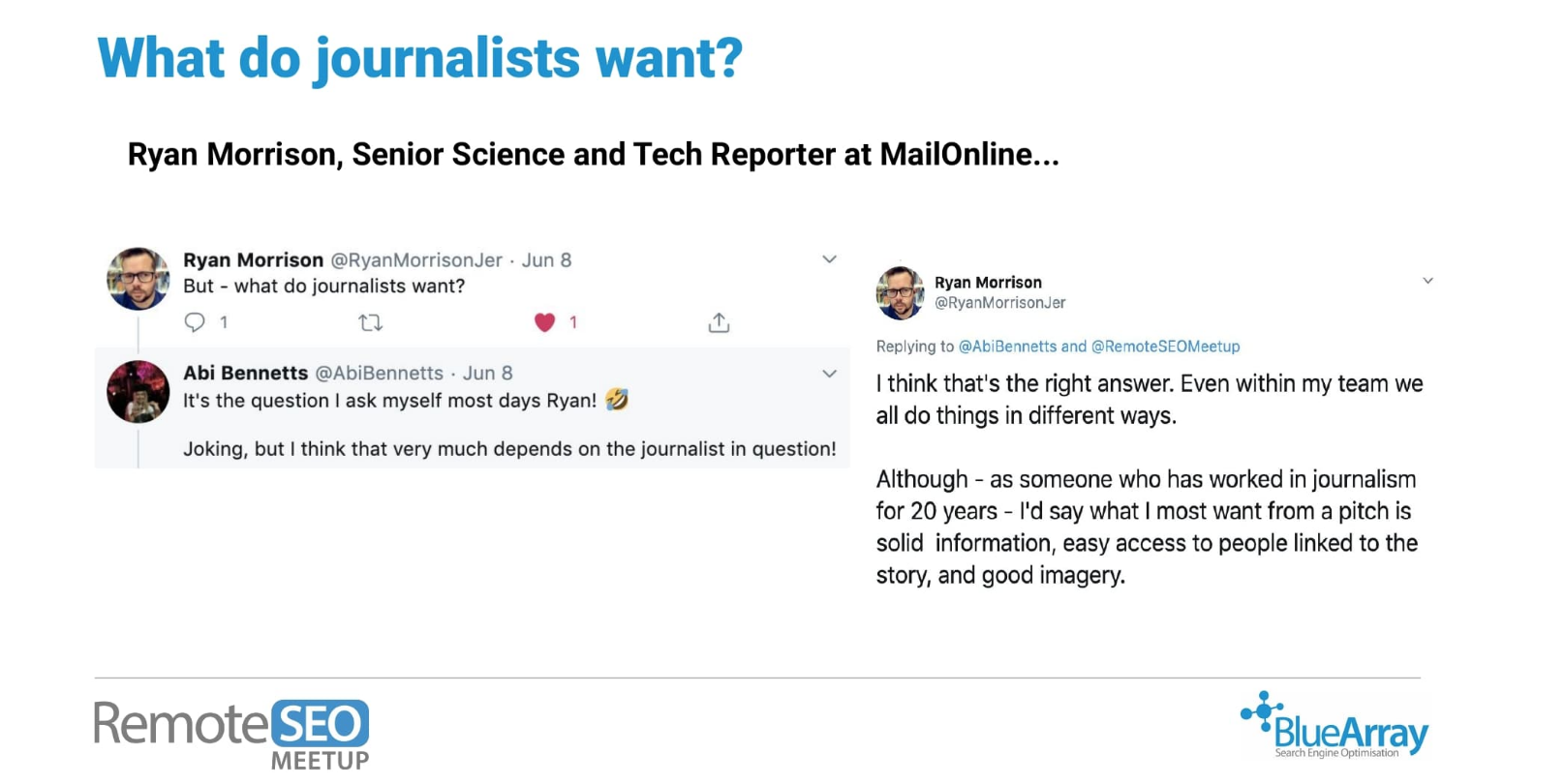 The key takeaways from Abi's talk included:
Think like a journalist. If you were time-poor in a high-pressure job, you would want PRs to provide clear information, and quickly. Consider how you could make a journalist's jobs easier by providing data and stories you know they like.
Be quick but be relevant. Respond to requests quickly, write up comments yourself to save time (if you can) and highlight the importance of signing off quickly to your client. It's also okay to "stretch the truth" when giving a deadline to buy yourself more time. But most of all, make sure what you are providing is relevant to the #journorequest. After all, you don't want to be the PR that's wasting their time.
Set the scene for a professional relationship. Present your information to a journalist in a direct and clear way. Journalists can see through the 'brown-nose' act, so cut the niceties unless you have an existing relationship with them. Get to the point and they'll appreciate it all the more!
Hannah Butcher – Digital PR Mentor & Freelancer
Hannah is a Digital PR mentor, freelancer and mental health advocate with over a decade's experience in the industry. Her background in journalism and content production has given her a deep understanding of how to make boring stories more interesting.
Hannah's talk focused on three key ways to get a story noticed by journalists, ranging from the idea behind the story itself to deciding where to pitch it.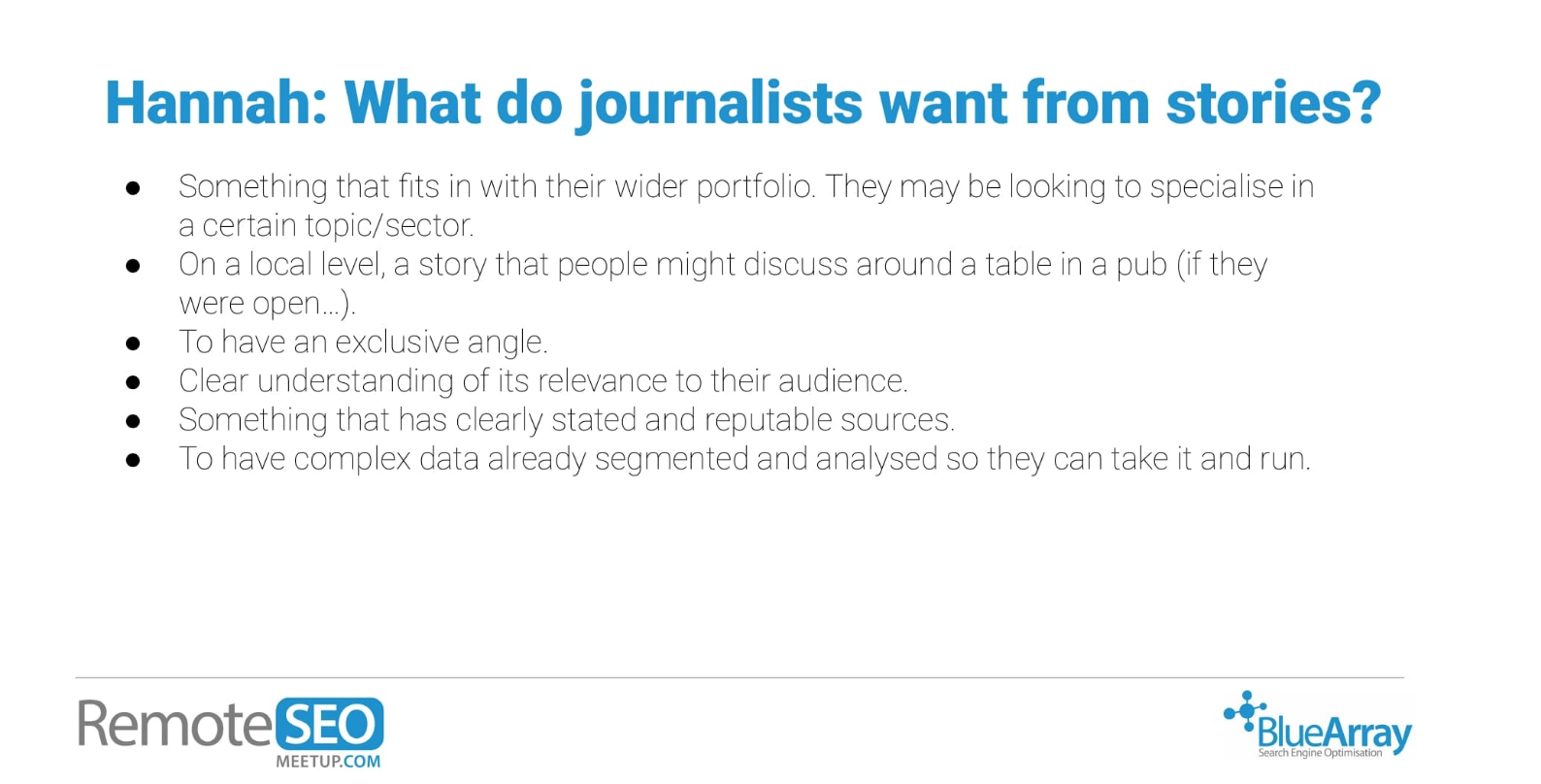 The key points of Hannah's talk included:
Use data to drive the story. Consider using both internal and external data sources to bring your story to life. It's likely you'll have a goldmine of information at your fingertips, from internal Google Analytics and sales data, to customer queries and feedback from live chat programmes and customer service emails. Externally, you could use wider customer surveys, national statistics and search trends to give yourself a unique angle relevant to your business. Just make sure you segment and analyse the data for the journalist so they can take it and run.
Think big, and small. When deciding what to focus your story on, consider these key questions: Is it relevant to more than one publication? Would you read it? Is it interesting enough? Can you find a local angle? Would people want to discuss it around a table in a local pub?
Reduce, reuse and recycle. Don't be afraid to resurface stories that have previously had coverage, but only if they become relevant again. To demonstrate this point, Hannah shared a story on -ahem- an alternative way to cool down using ice lollies that has been picked up by national publications in 2019 and twice already in 2020. If there's an appetite for the story, bring it back!
That just about sums up our coverage from June's RemoteSEO Meetup! Thank you to our three speakers and everyone who attended. For even more SEO tips and tricks, make sure you keep an eye out for further details on the next event – coming your way on Wednesday July 15th – by following the event's Twitter page.