Why you can (and should) do more with seasonal SEO
Posted by Luci Wood on June 30, 2020
Content and KeywordsKeyword ResearchSEOSEO Strategy
At the time of writing this article, there are only 178 days left until Christmas! In the middle of a springtime global pandemic, mince pies and Santa Claus may be the last things on your mind (but if Santa Claus is always on your mind, I'm not here to judge)!
However, if you're a marketer, you will probably be starting to plan your festive campaigns in the not-too-distant future.
Profits inevitably rise during seasonal peaks – but not enough businesses get their organic strategy correct, which means that ROI suffers needlessly. All businesses have some element of seasonality, whether it's a summer holiday lull, a tax year-end boost, or a sudden demand for products (especially if you make pasta or hand soap during a pandemic!).
Below is the organic traffic for one of our clients – a popular flower delivery site – showing annual seasonal peaks in February, in the week leading up to Valentine's Day. Seasonal optimisation is absolutely critical to their business's bottom line.
Over the last two years, we've worked closely with this client to implement a number of improvements to their website, specifically with seasonality in mind. This resulted in a 334% rise in organic sessions in these key weeks between 2018 and 2020.
Here are our top tips for making the most of seasonal opportunities and what you should consider in terms of planning, analysis and optimisation.
Structuring your seasonal pages
The websites that get their internal structuring, or information architecture correct will always outperform competing businesses who miss this vital step.
This is most significant for eCommerce brands who wish to take advantage of promotional sales events, like Black Friday or Fathers' Day, but it's also hugely relevant to news publishers, who are covering stories around temporary seasonal events such as Wimbledon, the US Presidential Election or even Love Island (if you're into that sort of thing).
Use a hub structure
We're used to seeing content hubs in resource centres and "How To" guides. Using this type of framework for linking related pages strengthens contextual signals, and creates a seamless journey of exploration for both crawlers and users – so why wouldn't you use it?
Here's an example of the hub structure used by the White Company for their Christmas 2019 collection:
Beautifully categorised and available straight from the header navigation. Of course this is essentially the same as regular best practice product categorisation for eCommerce, but it works for a reason.
Similarly, here's an example from a mainstream reviews website focusing on their Black Friday content: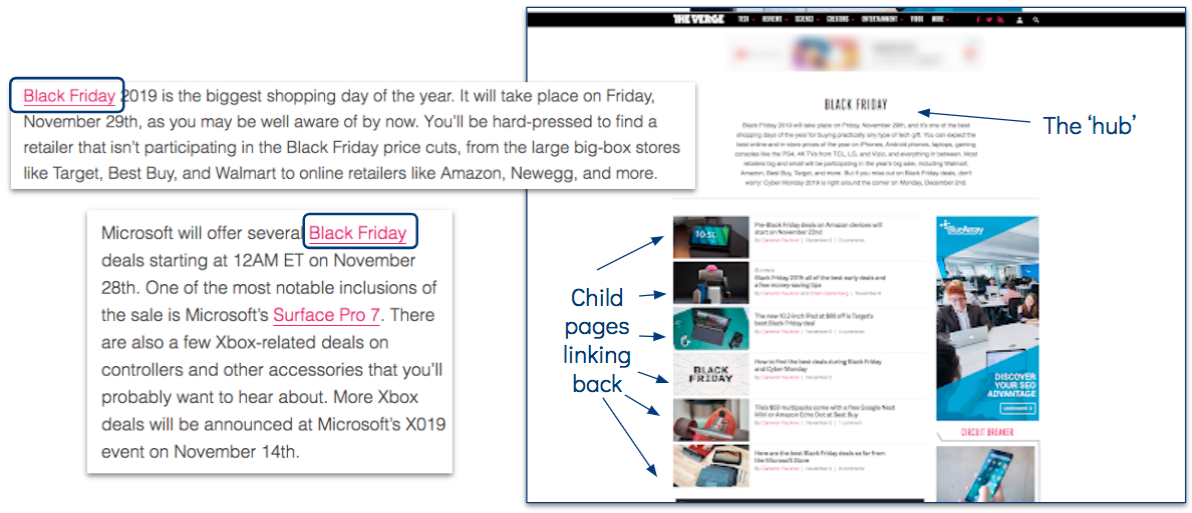 Here are some more tips for structuring your seasonal pages:
Unless it's a very timely news piece, don't use the date within the URL, in order to avoid needing to implement redirects in the future
Do use the month and/or year in your headers to make it relevant
Don't wait until launch day to make the page live – use the build-up to create excitement or offer pre-event offers, attracting valuable inbound links
301 redirect old or out-of-date relevant content towards the page, to help give it more authority
During your event, if you are an eCommerce business and you run out of stock – don't delete or 404 the page – add an out of stock notice and link to other relevant products, or capture the user's email address so you can alert them when the product is back online
Link to other non-seasonal, but relevant pages – ensure you're passing on the benefits to other areas of the site – such as how Argos do…
When your campaign ends
After the event is over, the most important thing to remember is that deleting the pages can remove your hard work, forcing you to start from scratch next time. If you've spent hours honing your content, pushing your pages on social media or above the line advertising, you'll no doubt have generated some good quality backlinks. In fact your seasonal pages could be the strongest pages on the site, second only to your homepage.
Instead:
Keep the page live
Add a holding message to build excitement for the next event
Link to other areas of the site you want to push in the meantime
Types of seasonal SEO
When many people think about seasonality, they think about the big ones – Christmas, Valentines Day and so on. Yes, calendar events are a huge part of it – and they quite rightly rule content calendars for that very season. But there's much more to seasonal trends.
Events and occasions
This category of seasonality centres around fixed dates, like those mentioned above. The benefit of this is that you will have time to plan backwards from them and develop your organic and website strategies accordingly.
Don't forget that this type of seasonality does not need to occur every year and also includes things like the Olympics, reunion concerts (still waiting for the White Stripes to get back together) and the new series of The Crown.
Demand
If you've been to any kind of shop in the last two months, you'll know that certain FMCGs have dramatically increased in value due to the COVID-19 pandemic…
This is a perfect example of increased demand that builds to a peak and subsides again. More predictable demand seasonality can be found in things like ice cream when the temperature is warmer, and gym memberships/exercise equipment after the Christmas holidays. Use Google Trends to discover search demand links between variables… and for a bit of fun, check out spurious correlations!
Tragically, sometimes this increased demand is correlated with specific events, as in the below… #heartbroken
Finding your seasonal peaks
In 2020, we're fortunate to have an extensive goldmine of data sources from which to draw seasonal insights for our industry and business. Here's a list of some of our top recommendations:
Google Search Console performance data over time – make the most of your page, query and country filters
Google Trends, for your target topics/events (and by country). You can export data as a .csv file and manipulate it any way you want!
Google Ads Keywords Planner – historical metrics area
Google Analytics

Historical organic performance by country, by month (you can also filter using Search Console keyword data if you're set up correctly, or filter by pages containing your seasonal query within the URL which is especially helpful for eCommerce sites)
Site search – filter by query, or review internal search queries over time

SEMRush, using their Traffic Analytics tool (you'll find this under Competitive Research) – a great way to see how competitors fare throughout the year
And of course, there's always common sense to give you a push in the right direction!
If you're au fait with Google Data Studio you could bring all this data together and create a seasonal reporting dashboard.
The important role of Region and Market
Understanding your target market is absolutely critical when thinking about seasonality, because this type of segmentation holds the key to meeting their intent and interests at the right time. It will also build brand loyalty because you're demonstrating that you understand your customers'.
For example, whilst some events occur at the same time the world over, if you're targeting both the United States and United Kingdom, you have two Mothers' Days to work towards.
If you're an eCommerce clothing retailer and you operate in multiple countries, you could find that demand for knitwear increases in Australia in June, and peaks in Scotland in November.
Some of these variations aren't even due to focusing on different countries. Demand for swimwear in the US, for example, is going to be totally different depending on whether you're looking at California data or Wisconsin data.
When you should start preparing for a key seasonal event
It takes time for search engines to discover pages and content, and seasonal campaigns are no different. With this in mind, I'd recommend starting around 4 to 6 months ahead of time, if not more, to tackle the foundational work, such as keyword research, design and testing and developing a well thought out system of internal links.
By the time your event rolls around, you'll have well-optimised pages, targeting the right keywords, with lots of beneficial existing site authority flowing towards them.
Analysing seasonal data
Reviewing how seasonality affects organic performance for your site should be considered both the first and last step of any successful campaign. Data tells a story, and if the story could have had a better ending, you can dive in to find out exactly what can (and should) be optimised in the future.
Here are some tips for reviewing seasonal performance and meaningful forecasting:
If you have seasonal peaks and lows throughout the year, don't take an overall average over 12 months to determine performance benchmarks – you're going to be disappointed when you forecast 3000 entrances in August and get 1200. Make sure your forecasting is reliable and accurate in order to avoid unpleasant conversations with upper management later on.
Check your month on month % change for as many years of historical data as possible to work out an average
Don't use absolute figures from your first year to calculate organic entrances. When you're starting up, you're going to see a more shallow growth and these will throw the whole picture out of whack
Cross check any sudden increases or drops with above the line activity and wider marketing initiatives – John Lewis, for example, always feature a target product in their behemoth annual Christmas campaign, so they could reasonably expect to see spikes in non-branded product traffic and increasing search demand on Google Trends
Other seasonal SEO tips
Don't forget to change your opening hours on Google My Business if you're closed over the holidays or to ensure your customers know whether they can contact you in the event of a global pandemic…
Make the most of existing PPC campaign data to help inform the most revenue-collecting keywords to target next time around
Create supplementary, non-transactional content to widen the net and raise awareness
Check your page speed against competitors to make sure you're at least matching them where possible. Yes, Google has confirmed that page speed is a tiny ranking signal, but in competitive times I'm willing to bet that its relative importance increases! And things like huge video files for your Christmas commercial, or gigantic hi-res images will impact that.
Summary
With the right planning, seasonal SEO can bring great opportunity to your business to generate far higher levels of revenue – whether you're in eCommerce, define success by lead generation or if you make money through advertising impressions.
Time spent on fixing the basics, and creating a clear, targeted journey for search engine crawlers and users can only serve to increase engagement and cement your profits – whatever the time of year.