RemoteSEO Meetup – July 2020
Posted by Luci Wood on July 17, 2020
Blue Array NewsConferencesMeetups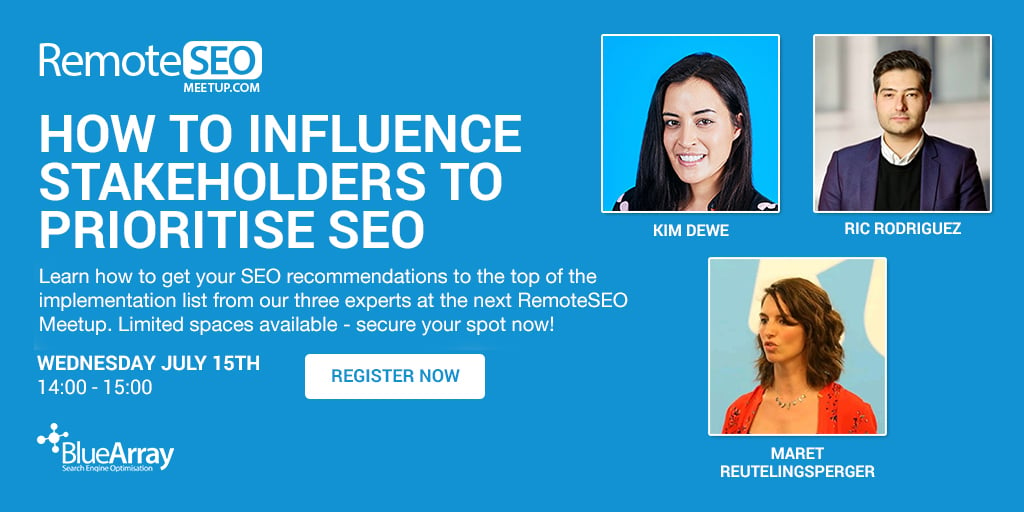 Earlier this week we were back again for the third RemoteSEO Meetup. Judging by the number of attendees and questions asked in the chat, it was on a very important topic: How to influence stakeholders to prioritise SEO.
Our three expert speakers, Kim Dewe, Maret Reutelingsperger and Ric Rodriguez, were on hand with their top tips for keeping SEO recommendations at the top of your stakeholders' implementation list.
Kim Dewe – Blue Array
Kim has a background in marketing and is currently studying for a degree in computer science to enhance her technical SEO knowledge. As Blue Array's Head of SEO, Kim has a particular focus on client retention and satisfaction – perfect for the topic of this meetup!
In her talk, Kim shared her tips on creating SEO goals that clients actually care about, as well as how best to report against them.
Key takeaways from Kim's talk included:
Know what you're aiming for. It's important to understand your stakeholders' 'satisfaction attributes' when creating your SEO strategy. What are the metrics they care about? Knowing this from the start helps to keep your stakeholders onside.
Understand which metrics matter. SEO performance metrics should be defined in a way that shows the degree to which stakeholder expectations are being met. For example, if a stakeholder is concerned with 'vanity metrics' or achieving position #1 for a target keyword, what would this actually mean for them in terms of conversions or revenue? Help them understand this so they can see the potential ROI.
Report simply. Instead of reporting for reporting's sake, it's important to focus on the high level indicators and trends before digging into the detail. The best SEO dashboards follow this style, with the overall goal – or North Star – at the top, and details towards the bottom. This makes it far easier for time-poor stakeholders to understand, at a glance, how SEO activities are performing.
Maret Reutelingsperger – Mobe Digital
Armed with plenty of experience in the digital marketing industry, Maret now works for her own agency, Mobe Digital. As a freelancer, she's well versed in overcoming challenges of being an 'outsider' in inbound SEO and marketing projects.
In her talk, Maret explored the importance of communication in stakeholder management – whether that's through teamwork, clarity in documents or reviews. It all counts!
The key takeaways from Maret's talk included:
Immerse yourself in the team. By getting to know the team members and their individual goals as well as the internal processes at play, you'll become a trusted partner who can push for change within the organisation.
Create clarity. When it comes to creating and communicating your backlog to the team, make it as clear as possible. Visualising the impact versus the effort required is a great way to get teams on board and help prioritise tasks. Further, going granular and specific with your tasks helps everyone to understand who is doing what and by when.
Hold regular reviews. Having frequent catch ups allows you and your stakeholders to be both flexible when needed and accountable for change. Honesty and transparency are very important here.
Use competitor comparison. As a bonus tip, Maret explained that showing your client what their competitors are doing well in SEO is a surefire way to get them going!
For anyone that missed the GIFs in Maret's talk, check out her thread on Twitter!
Ric Rodriguez – Vashi
Ric has recently joined Vashi following many years' experience in SEO for a number of internationally renowned brands and independent digital agencies. He has a passion for marketing and technology, and wrote the chapter on 'Collaboration and Coordination' in our book, Mastering In-House SEO.
Ric's talk focused on the best ways to integrate with wider teams to effect change and get things done.
The key points of Ric's talk included:
Get to know the business dynamics. Ask why things happen the way they do and spend some time on discovery. Figure out the priorities of the stakeholders and use them to support your ideas and budget cases.
Learn the language. Take time to understand the language used by the marketing teams around you. Search has a huge amount of jargon that's meaningless to other teams, so avoid using it. Instead, think: audience and return on investment.
Build relationships. As search marketers, we often work with different stakeholders. Our relationships are not only the key to our own success, but can also help others to be far more successful. We're one function in a larger team, so collaboration is key!
What a great session! Thank you to our three speakers and all our attendees. For your next instalment of SEO tips and tricks, keep an eye out for the August event – coming your way on Wednesday August 12th – by following the event on Twitter at https://twitter.com/RemoteSEOMeetup.