Faceted navigation: how to drive traffic to your website through filter optimisation
Posted by Luci Wood on April 23, 2020
In this article I'm going to talk about:
The SEO best practices for managing faceted navigation on your website
How to decide which filters to 'open up' for crawling and indexing
How best to handle the most some common SEO issues causes by faceted navigation
Jump forward to each section here:
What is faceted navigation?
Common SEO issues with faceted navigation
Let's look at an example
Deciding which filters to index
The technical considerations of faceted navigation
Updating metadata
Contextualising your on-page content
Additional on-page features
Product specs & comparisons
Reviews
Cross linking
Product or Service FAQs
Faceted navigation optimisation is tricky
What is faceted navigation?
Put simply, faceted navigation is a way of helping website users refine a larger list of products, information or services.
Most commonly, it's used on e-commerce websites, though also frequently alongside service booking and job portals.
The advantage of faceted navigation is that it offers users a simple and effective way to find their desired result by narrowing down their options through specific filters.

Common SEO issues with faceted navigation
I previously looked at how to avoid 14 common mistakes with faceted navigation. These mistakes are listed below, but be sure to check out that article if you're looking for more detail on any of them.
Creating multiple pages with duplicate or thin content
Filter selection order creating separate, duplicate URLs
Having similar products pages with little or no content differentiation
Canonicalising filters upwards
Not implementing pagination
Having too many filter pages opened up for indexing
Having too few filter pages opened up for indexing
Preventing crawling of any filter pages via robots.txt
Not having a clear strategy behind optimising your filters
Not implementing sitewide rules for managing pages with multiple filter parameters
Suddenly giving Google free reign to crawl everything
Not providing enough content on your category and filter pages
Not dynamically updating your metadata
Forgetting about internal linking
In this article we're going to take a closer look at issue number nine; how to create a strategy for optimising your filters with the right words and phrases that your users are searching for.

Let's look at an example
As a novice recurve archer, I spend a lot of time searching for products and information across different archery websites. Sometimes it can be really frustrating to find what you need without knowing exact product names or product codes.
Let's take a look at The Archery Shop (yes, it's a real shop, they sell lots of archery gear, including giant 3D grizzly bears!). These guys actually do a pretty good job of understanding the ways their target buyer might whittle down their options when looking for certain products to research and/or purchase.
Simplified recurve bow. Image from: https://www.bowhunter-ed.com/iowa/studyGuide/The-Recurve-Bow/30101302_9356/
For an archer looking to purchase a new set of limbs (limbs being the technical name for the upper and lower parts of a recurve bow that hold the bowstring), the most important aspects to the prospective buyer are primarily going to be:
Limb type: ILF vs Formula (limbs are designed to fit one or the other)
Material (wood, foam core, carbon fibre etc.)
Limb/bow length
Draw weight (how 'heavy' the bow will be to draw back)
Brand/ Manufacturer
Factors that I may still consider, but with less importance, might include:
Colour
Price
Availability (in-stock, out of stock, pre-order)
Location-based filters (e.g. can the item be collected from a store, which countries can it be shipped to and so on).
We can see that The Archery Shop offers me all of these options via the faceted navigation and filters:
Conducting your research
Once you've got an understanding of what your target audience might be looking for, and therefore the filters they may use to narrow down their search, it's then time to crack out your spreadsheet.
Add your key products, then add modifiers such as colours, styles, descriptors, location etc, and combine those variations (concatenate is your friend here) to create a large list of all your potential filter terms.
You'll then want to identify any filters that might currently be missing from the website. If you've got a good understanding of the target audience and the general trends around what you're offering, it's likely you'll be able to think of a few off the top of your head.
You can also supplement these ideas by reviewing the current product/service range and considering any specifics within the product or service offering. For example, a toy retailer may consider adding filters like:
Toy types, e.g. scooters, squishies
Toy brands e.g. Lego, Fisher Price
Merchandise, e.g. Peppa Pig, Paw Patrol
Trends e.g. Unicorns, Purrmaids

Image by Little Luxuries Loft
It's also worthwhile spending time reviewing filters used on the website's of your close competitors. Just remember not to not fall into the trap of relying on them solely for ideas (so many websites using faceted navigation make mistakes).
Similarly, if you're undertaking this research on behalf of a client, always be mindful of their core values and ethics.
As an example – we found lots of opportunity around 'real fur' products during keyword research for one of our e-commerce clients, but adding these filters would have been in direct contradiction to their core values as a company.
Likewise, don't suggest filters for products that the brand doesn't sell just for SEO purposes; you'll end up with empty pages that will just do more harm than good.
Once you've exhausted the potential options for new filters, pull in search volumes for all of the various keyword combinations, as well as other metrics you find useful, such as keyword difficulty. Here at Blue Array, our favourite tools for the job are usually SEM Rush, Ahrefs, Keywordtool.io and Google's Keyword Planner (though this is useful only to those actively running ads, otherwise the search volume ranges are far too broad).

Deciding which filters to index
In the research phase, we want to 'cast the net' as wide as possible and identify all possible filters that would help a user find what they are looking for. However, when it comes to deciding which filters we want to open up for indexing by Google, remember a couple of things:
Opening up too much can lead to crawl bloat, meaning important pages may be deprioritised or not seen
Be mindful of your product inventory – filter pages with no products result in thin content, which is not good for users, or for SEO
So how do you decide which filters to open up for crawling and indexing? Well, the most important question to ask when considering which filters to be crawled and indexed is:
"Is anyone searching for this particular variation of product/service?"
Naturally, the more "long tail" you go with your indexable filters, the less search demand there will be. That's not to say, however, that those longer tail filters are not valuable – if you have the products or services to satisfy a niche filter, then having that filter page indexed and available in Google search, it may help drive very qualified traffic that is far more likely to convert into your website.
Ultimately, make the decisions driven by data – this can include keyword search volume, but also your Analytics and customer conversion data too.

The technical considerations of faceted navigation
It's important to know how to handle your filter pages from a technical standpoint. This includes:
Ensuring you're not disallowing crawling of your key filter pages via the site's robots.txt file.
For filter pages that you want to appear in search results, ensuring they are indexable (check the No Index tag has been removed if this was in place previously)
Ensuring your key filter pages have self-referential canonical tags, and are not canonicalising back up to the main category or subcategory level
Ensuring internal links are updated to point to your key filter pages where appropriate
Removing any No Follow directives on key filter pages to ensure they are crawled
Adding key filter pages to your XML sitemap
Updating metadata
Depending on the capabilities of the CMS or platform you're using to host your website, it's worth double checking whether you have the ability to update elements such as meta titles and descriptions on your key filter pages.
For large websites, it's generally helpful to have this information update dynamically according to a set of predetermined rules. This is important because in order to gain visibility for your specific filter terms, those keywords need to be included in the key content-related elements of the page – page titles, headings and ideally on-page content.

Contextualising your on-page content
You don't need to have been in SEO long to appreciate that contextual content helps Google understand what a page is about. So, with that in mind, it's hardly a wonder that many eCommerce sites took to including huge chunks of text at the bottom of their category pages (also commonly known as a product listing page or PLP).
Generally though, this content isn't for users. It's a pure SEO play to help those PLPs rank for certain keywords. However, in reality this doesn't sit too well with Google's 'optimise for users, not search engines' philosophy.
Despite the temptation to put a heap of content at the bottom of the page, Google's John Mueller actually suggested during the Feb 2019 Webmaster Hangout that this isn't best practice.
So what are the alternatives to having large chunks of text at the bottom of your PLP? Turns out, quite a few, according to John Mueller, which Glenn Gabe summed up nicely in a tweet:
Based on Glenn's tweet, some ideas to add contextual relevance to a category page include:
Adding links to bestsellers within the category
Including snippets of text for each product
Ensuring images have alt text and captions
Of course, you can still include a few lines of content at the top of the page to introduce the category, but as Google's ability to understand the nature of category pages improves we need to strike a balance between providing sufficient contextual information without pushing products below the fold.
A good way to look at this is to remember that the category page is there to display products, and the majority of users browsing those products has a shopping intent, rather than, say, an informational intent. Naturally, then, it could be confusing if you load up that page with a heap of informational content.

Additional on-page features
Of course, it's not just the written copy on a page that can add value to a user. For an online store, your product page (PDP) is usually the last hurdle before conversion, so it's a good place to be including trust cues to help get your user 'over the line'.
Furthermore, the addition of certain on-page features can build out a rich page of content. These features can include:

Product specs & comparisons
Over and above your usual product description text, specs should really be a given for sites selling technology, software or 'large ticket' items.
A good way to present this data can be comparison tables. These tables show how the product stacks up against similar offerings. The trick here is to give your user enough information to help them make a decision, without overwhelming them.
The depth you go into will, of course, depend on the product, but here's a quick snapshot from Apple: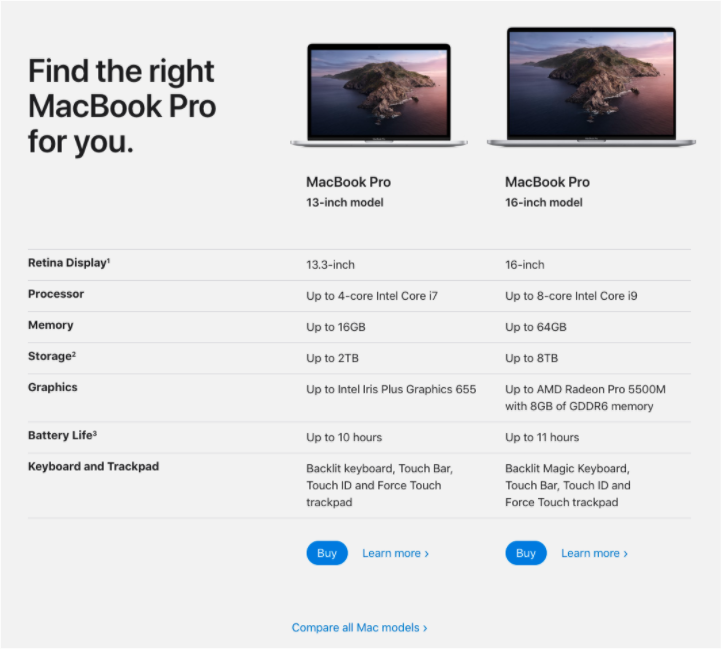 Rather than listing every detailed specification for a MacBook Pro, Apple has highlighted features which are likely to be of most importance to the buyer. Getting this right usually requires a strong understanding of your target audience, and a little bit of iterative testing.

Reviews
From Amazon to Zalando, user reviews are now an everyday expectation for the online shopper. According to BrightLocal, 91% of consumers say that positive reviews make them more likely to use a business.
That statistic won't come as much surprise to anyone who shops online, however, when you break that down by demographics, things get even more interesting. For those with a target audience that include the 35-54 year old bracket, take note: 89% of 35-54-year-olds trust online reviews as much as personal recommendations, but those in the 18-34 group are starting to trust them less.
With this in mind, make sure your reviews are authentic, and ideally try to keep a steady stream of fresh reviews coming in.
Cross linking
Including links to related products, accessories and packages can help add relevance to the page, offer additional value to the user, and potentially, increase basket value.
Here's an example from Boden that helps shoppers 'make an outfit of it' based on their product choice:
Product or Service FAQs
Depending on what the product is, this might include instructions for using or caring for the item, top tips or common troubleshooting questions.
If there is a longer lead time for manufacture or delivery of a product, or there are restrictions or allergens a user ought to be aware of, then make these clear. Alternatively, if you've made recent improvements to a product, you can shout about these too.
Here's a good example from M&S:
Faceted navigation optimisation is tricky
The processes described above can be tricky, though if done right can provide great benefits for your SEO. Creating a solid foundation for your facets and filters can enable you to achieve organic visibility for hundreds, if not thousands of long-tail queries, which then have the potential to drive high quality, converting traffic to your website.