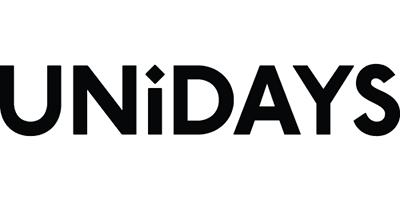 UNiDAYS
Website
Founded
2011
Industry
Technology
Markets
Global
History
UNiDAYS is recognised for being a student's discount haven. Established in 2011 by Josh Rathour, it offers discounts to eligible students across a vast number of high-street and online stores.
The UNiDAYS network spans over 100 countries, though the company's headquarters are in Nottingham, the U.K. Using their specialist technology, UNiDAYS can verify a student's eligibility in just a matter of minutes.
As the most established student discount platform available, UNiDAYS is trusted by students worldwide who benefit from a big range of discounts across favourite brands. Not only do they provide discounts for clothing, technology, food and drink, they encourage students to keep themselves healthy when studying with offerings on gym discounts too.
Since being founded, UNiDAYS has expanded its network significantly. In 2016, over $2.4bn was spent on such operations. Today, they're partnered with over 600 brands, including worldwide leaders such as Nike, Samsung, and Microsoft.
While UNiDAYS has only been around for a short while, it has grown to be one of the most successful companies in the UK. Now, the company also has offices globally including in Silicon Valley, New York, Sydney, as well as their HQ in London.
Key selling points:
UNiDAYS offers a quick verification process for students that sign up
The website can be accessed at any time, any place
Students across the globe can use UNiDAYS
UNiDAYS provides a handy app which makes discounted shopping online more convenient
UNiDAYS offers post-graduate discounts and benefits too, so long as you can verify where you obtained your degree.