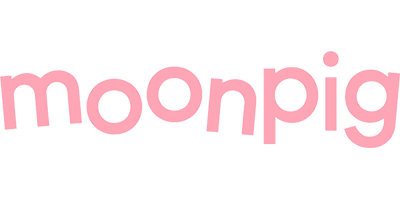 Moonpig
Website
Founded
2000
Industry
Retail – greetings cards and gifts
Markets
UK, Netherlands, Australia, USA
History
'Moonpig' was Nick Jenkins' nickname at school as a child, so when he needed a name for his new start-up business, it was the obvious choice!
Moonpig began during the collapse of the dotcom bubble, so has proven to be a real success story of its era. The site started offering personalised printed greetings card featuring customised messages and the users' own photos. At first, progress and growth were difficult due to economic conditions, but word of mouth spread the message effectively and sales increased steadily. Some five years after its launch, Moonpig made its first profit, and the infamous Moonpig.com jingle hit televisions in 2006.
Moonpig expanded to offer gifts and flowers alongside its cards, and by the late 00s was receiving more traffic online than any other UK flower or gift company. Over 2.5 million customers had been reached by summer 2009 and it made a record profit that year.
Initially based in London, the cards are now printed in Guernsey but the firm's HQ remains in Farringdon. Expansion and success has continued, with an Australian base being established in 2004, and a US one in 2010. In 2011, Photobox bought Moonpig for £120 million in cash and shares, but was subsequently sold onward – and Moonpig formed the Moonpig Group with its Dutch equivalent retailer, Greetz. Today, Moonpig is a household name across the UK and delivers over 20 million cards a year made from over 17,000 customisable designs. Customers can access the site online or through an app, and next day delivery has transformed the market for those needing a last-minute gift.
Key selling points:
Large range of cards and gifts
Customisable products for bespoke gifts
Next-day and fast delivery available for last-minute purchases
Coverage in several countries.