How using structured data can drive your organic traffic
Posted by Jenni Finch on July 4, 2022
It might not sound like much, but structured data, is a great way of helping Google understand your content. Also known as Schema Markup, you can add this piece of HTML code (a.k.a "markup") to a page to ensure search engines understand what specific content is on the page. And yes, you're right – it is effectively, 'data about data'.
But with the help of structured data, we are able to create more relevant content and add value to existing content – which helps make sites a candidate for enhanced results like featured snippets, rich snippets, image, and video carousels, knowledge boxes, and other search features.
What are the SEO Benefits of Adding Structured Data?
Implementing structured data on a website helps search engines better understand the site and its content, and utilises that information to provide users with rich snippets and other features in search results. 
In terms of search engines, the more properties you add and the more detailed the structured data markup is, the more likely it is that the information will appear in Search results with enhanced display. It is worth noting, it is better to supply fewer more accurate properties, than lots of inaccurate and incomplete properties. Pages that appear as rich snippets in SERPS tend to have increased engagement. 
Overview of Google's Guidelines
It's important to note that Google doesn't guarantee that structured data will appear in search results, even if it is marked up correctly. Here are some of the guidelines that apply.
Pages should be marked up with one of three formats – JSON-LD (recommended), Microdata and RDFa.

Pages that are eligible for structured data should not be blocked by the robots.txt

It should be representative of the pages content

Structured data should be complete i.e. all the required properties should be present

Content should be up to date and original

Structured data should be present on the page that it describes, in the case of duplicate pages with the same content, then place structured data on all pages not just the canonical.

It should not be used to markup irrelevant, misleading or content that engages in illegal activities.
How To Find And Fix Structured Data Errors? 
Thanks to Google's constant changes in its algorithms, there is a huge difference between the search results we were seeing a few years ago and the results we are seeing today. Not only are the results easier to read and understand today, but the results also show extra features, providing users with a more informative and intelligent searching and shopping experience. 
Due to these constant updates, our aim as SEOs is to make sure we follow best practices and monitor and fix any sudden errors or warnings when implementing structured data. 
How to Check for Structured Data Errors and Warnings?
Google Search Console
Using Google Search Console we can check for structured data issues on a website. 
It is also worth noting that Search Console is adding more context to its error reporting. This will include a description of what is missing as demonstrated in the images below: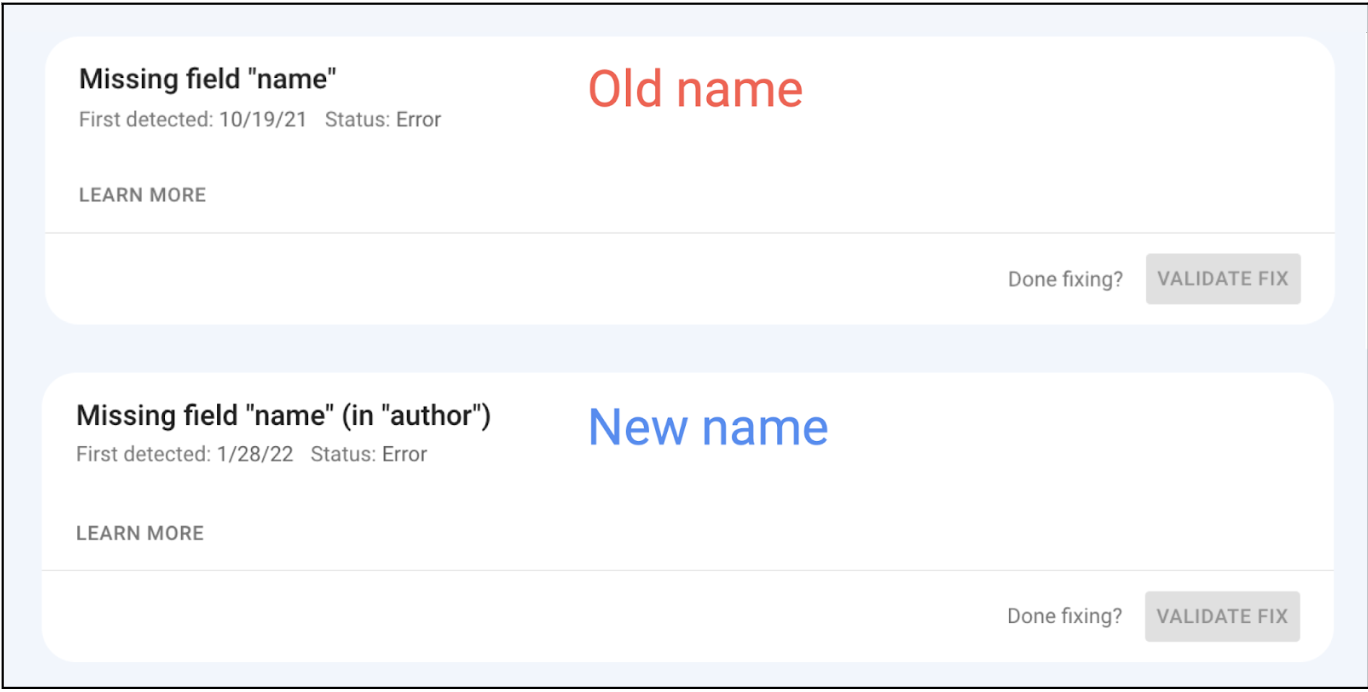 Errors within Google Search Console for Schema can be found on the left-hand side tab under Enhancements.
You will then be presented with any issues with Schema under Error. 
From here, click into the error and copy the URL into either the Schema Markup Validator or Rich Results Test to confirm that the issue exists. 
Google has documentation for each of its structured data types – in the example above we can look at the FAQ documentation.
Structured Data Testing Tool
Visit the Structured Data Testing Tool and from here you will be presented with two options:
Rich Results Test:

This will test your structured data to see which of Google's rich results can be generated by the structured data on your page. 

Schema Markup Validator:

This will test and validate your structured data that's embedded in the web page without Google feature-specific warnings. 
Enter the URL of the domain you'd like to check the structured data implementation and run the test. 
The HTML code is shown on the left-hand side and an overview of the schema markup is shown on the right-hand side, along with any errors. 
Google Chrome extensions 
A much quicker way for checking errors and warnings with schema implementation is to use Chrome extensions. Once added you can instantly check for errors and warnings in your browser. 
Google Chrome extensions available for testing structured data:
SEO PRO Extension by MarketingSyrup
Ryte Structured Data Helper by Ryte
Schema Builder & Tester by Schema.dev
OpenLink Structured Data Sniffer by OpenLink Software