Blue Array releases new book – Mastering In-House SEO
Posted by Luci Wood on April 16, 2020
Blue Array Releases a new book, Mastering In-House SEO: Bleeding edge strategies and tactics from leading in-house SEO experts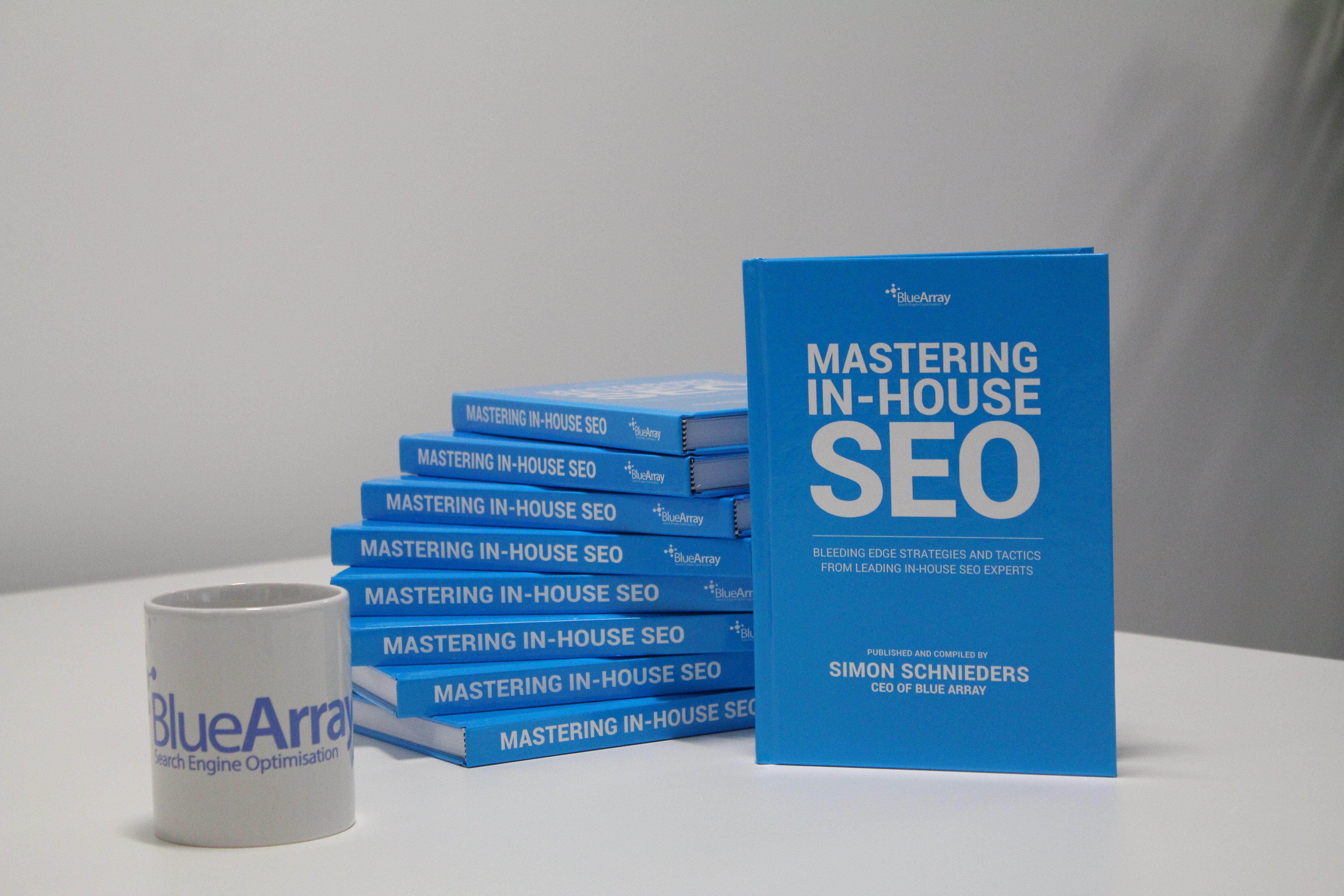 Mastering In-House SEO is full of professional experience from 26 of the best names in the in-house SEO industry, including Areej Abuali, SEO Manager at Zoopla; e-Commerce Growth Consultant Luke Carthy; Ric Rodriguez, SEO Consultant for Yext; Fabrizio Ballarini, Organic Growth & SEO of Transferwise, and more.
Mastering In-House SEO is the only book ever published in print specifically for the in-house SEO, a group that's historically been largely voiceless in the SEO community. So why would the founder of the UK's largest specialist SEO agency, Simon Schnieders, write a book about in-house SEO professionals? Simon explains that the division of agencies and in-house experts is actually much less stark than commonly perceived.
"Mastering In-House SEO reveals all on working in-house, and is valuable for both agency owners and employees. For agency owners and freelancers, it serves to understand the struggles in-house people have, and therefore to help run better agencies."
It's exactly this symbiotic relationship that lies at the very heart of Blue Array's success. In fact, Simon credits his years of in-house experience as a major contributor to the success of Blue Array today. I am beyond excited to share this book with the agency, freelancer and in-house SEO community and everyone who wants to join any one of them," Simon added.
Chapter highlights include:
The book kicks off with Areej Abuali's chapter, "How I built a community for women to support one another". From 1-1 mentoring to a conference with 250 participants in less than a year – Areej tells us how Women in Tech SEO was founded and grew to an important community in the London Tech scene. Areej shares the foundation and trajectory of Women in Tech SEO, but also the valuable lessons she has learned from starting a tribe.
Fabrizio Ballarini, who has built an SEO team of more than 30 people, explains all in his chapter "A Culture of Autonomy: Building an SEO Team that Can Do It All". Walking readers through the culture of autonomy at TransferWise, Fabrizio explains how the set-up in which the team controls its own fate can be risky, but that the benefits far outweigh the risks. He explains the ROI autonomous teams have brought, and gives examples of how the SEO team has delivered an overall return that has more than paid for itself.
Digital Marketing and E-Commerce Growth veteran Luke Carthy's chapter, "How a 'Simple' Point of View Made a £30,000/Day Difference" explains the three big lessons he took away from an incident that completely changed his point of view of SEO. This includes taking the customers' viewpoint, proving the commercial value of a problem in order to get things fixed fast, and how making the most of the tools you have can bring big results without a huge investment in time. Adding to that, Luke gives readers a step-by-step tutorial on how to capture lost basket value in Google Analytics – something that helped him to get to the top of the developers' list of things to fix once he could communicate a problem in terms of potential lost revenue!
Ric Rodriguez's chapter, "Collaboration and Coordination: An SEO Master List to Get More Done" sees the experienced search marketing consultant share his process for comprehensive, collaborative SEO. Breaking it down into four phases, Ric explains the importance of researching, prioritising, assessing and collaborating in order to achieve goals and get more done. The process is something that has proven to be successful in Ric's experience, and is something that continues to help improve other businesses when he has shared the list with others.
All profits from the sale of Mastering In-House SEO will be donated to The Samaritans, a charity on the front line in mental health, working hard to make sure there is always someone there for anyone who needs someone – a mission the Blue Array team fully supports.
Mastering the Art of SEO: Bleeding edge strategies and tactics from leading in-house SEO experts is available for purchase on Amazon. For more information, visit www.masteringinhouseseo.com.