SEO Training & Workshops
Blue Array hosts and delivers best-in-class SEO training courses and workshops.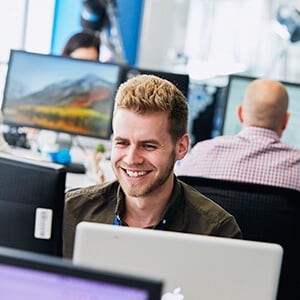 From building your skills to taking the next step in your career, our courses and certifications will help you achieve your goals in SEO
As the single highest-performing online marketing channel, SEO is something no business can afford to ignore. As well as offering best in class SEO Services, the team at Blue Array also provide best-in-class SEO training & education.
Our SEO training courses cover a wide range of topics and disciplines, can be tailored to individuals, teams or experience, and are delivered online or in person.
Whether you have years of experience under your belt or are just starting out, this will enable you to become a better SEO, and help you expand your knowledge of this ever evolving field of digital marketing.
The Blue Array Academy
We've open sourced the 'Blue Array Way' through a 23 module e-learning training course called the Blue Array Academy.
This ensures you or your SEO hire is accredited at the same high standards as Blue Array SEO Managers and ultimately therefore more likely to deliver measurable results.
SEO Workshops
If you're looking to improve your understanding of search engine optimisation and gain commercial advantage, our SEO workshops will teach you and your team what you need to know.
With no fees for audiences of over 15, and no maximum audience size, SEO workshops from Blue Array are a fun and affordable way to learn about all aspects of SEO for groups of any size.
SEO Training Courses
Our training courses are available both in-person, as well as online, in a variety of topics.
We cover a wide range of topics, ranging from the SEO basics to more advanced, in depth topics such as server log file analysis.
For SEO Workshops or training, please email us at [email protected] or use the contact form
SEO Software
At Blue Array we are also pushing to evolve, and are developing a number of industry leading tools.
Enstract is a WordPress Plugin that categorises your content via Machine Learning
Enstract utilises Google's Natural Language Processing (NLP) technology to extract the entities (people, places and things) associated with your WordPress content to categorise (or cluster) your posts and/or pages.
WordPress already has categories and tags you can add, though Enstract will instead tell you what categories are best for your content based on these entities and their salience (a way to measure the content relevancy).
Learn more